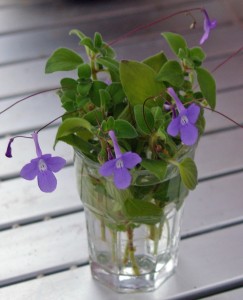 There are lots of houseplants which I love, but my favorite would have to be streptocarpella saxorum. The tongue-twisting name alone might dissuade some potential homeowners from growing this plant, but chances are you'll immediately fall in love after seeing it for the first time. It's also quite easy to grow, requires minimal light and maintenance, and it blooms year round. If you are looking for an easy-to-grow houseplant, pick up a streptocarpella saxorum from your local nursery. Call first to see if they have it, and if they don't, suggest they bring it in. I grow mine indoors on windowsills and in my greenhouse, but they also make a lovely outdoor container plant.
This was one of my gardening New Year's Resolutions last year: Propagate lots of streptocarpella saxorum plants in  my greenhouse to give as gifts (the parent came from my friend and horticulturist Ruth Clausen, and it made a lovely gift!) What started as a cutting in this little glass of water has turned into several large plants that bloom incessantly on a windowsill in my kitchen. I gave one to my mother this winter and it is blooming nicely on her kitchen windowsill.
A Quick Overview of Streptocarpella Saxorum
Upon blossoming, streptocarpella saxorum will feature several nodes with bright purple-colored flowers opening at the tips. The plant only grows to a height of 6-12 inches, but it can spread wide to about 12 inches. I grow them on a windowsill.
The flowers on streptocarpella saxorum grow to about an inch long with a slanted tube running down the center of them. Most streptocarpella saxorum flowers bloom with purple colors, but there are some blue varieties as well.
It's important to note that too much sunlight may burn streptocarpella saxorum. If you place it in an area of your home that receives constant sunlight throughout the majority of the day, you'll need to monitor it to ensure your plant doesn't burn. Check both the leaves and soil for signs of dryness. One precaution you can take to help prevent this is to keep your streptocarpella saxorum plants thoroughly moist.  Also, like african violets, their velvety leaves will discolor if you get water on them and then expose the leaves to the sun. It's best to water them from the bottom up (filling their saucer with water), or water carefully from the top, avoiding the leaves.
Streptocarpella saxorum can also be grown outdoors in the right conditions. Regions with excessively cold winter months will likely prove to be too much for this delicate plant. It prefers warm, humid environments to grow and prosper.
Hopefully, this will give you a better understanding of streptocarpella saxorum and what to expect when growing this plant. These purple-blue violets are attractive, easy to grow and make wonderful houseplants.